Mens magazines
Adult comics
Spick and span
Tijuana bible
8 pager
Comix
Spick and span, 60's Brit babes.
Spick Span magazine was published in the 1950s in England. It was a men's magazine, With photos of frilly girls and articles fantasizing about there lives.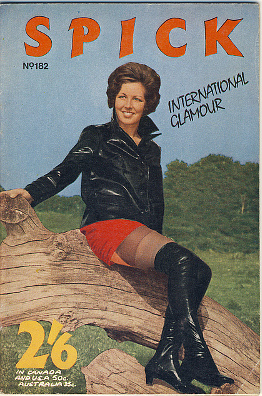 Tijuana bibles (also known as eight-pagers, Tillie-and-Mac books, Jiggs-and-Maggie books, jo-jo books, bluesies, gray-backs, and two-by-fours) were little palm-sized pornographic comic books produced in the United States from the 1920s to the early 1960s. Their popularity peaked during the Great Depression era.
Most Tijuana bibles were obscene parodies of popular newspaper comic strips of the day, like "Blondie", "Barney Google", "Moon Mullins", "Popeye", "Tillie the Toiler", "Dick Tracy", "Little Orphan Annie", and "Bringing Up Father". Others made use of characters based on popular movie stars and sports stars of the day, like Mae West and Joe Louis, sometimes with names thinly changed.
YES I AM OVER 18, ENTER.
WARNING: This site contains explicit sexually oriented material (vintage porn). By entering this site you acknowledge that you are 18 years of age or older. WARNING: FOR ADULTS ONLY erotica-vintage.com includes explicit visual, audio, and/or textual depictions of nudity and heterosexual, sapphic, bi-sexual, homosexual, and transsexual situations of a sexual nature. Persons under eighteen (18) years of age, and persons who may be offended by such depictions, are not authorized by erotica-vintage.com and are forbidden to directly or indirectly access, download, acquire, view, read, listen to, or possess any materials, including, photographs, video files, sound files, textual materials, advertisements, or other communications, messages or other content at, in, or through erotica-vintage.com , nor place any order for any goods or services at, in, or through connection to or from, erotica-vintage.com . If you are under the age of eighteen (18) years, are offended by such materials, you are NOT AUTHORIZED to download any materials from, at, or inside, this adult site.